Surf the Mid-West
SUNDOG, Kansas City's premier instrumental rock band, is booking gigs for 2022. This professional three-piece group has been playing KC's best music venues and special events for over 20 years: Knuckleheads, Uptown Theatre, Kansas Speedway, Crossroad's First Fridays, Wichita Art Museum, and more. Not your average cover band. If you're looking for something completely different for your next event, check out SUNDOG.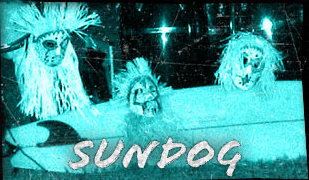 Three-plus hours of reverb-drippin', guitar-driven, surf-inspired instrumental rock. If you like Dick Dale, Los Straitjackets, The Mermen, Big Lazy, or Link Wray... you'll love SUNDOG.  (All of the above information is completely true, what follows should be taken at face value - and we wear masks.)
Kill Devil Club - 11/1/12
First Friday Event
In the 112 degree heat of a Kansas City summer, Sundog sweat it out on the streets of a runaway American dream getting wasted in the heat, hidding on the backstreets at 18th & Baltimore playing for crowds at another First Friday event.  As always, all apologies to the families with children who were traumatized and thanks to the girls in their summer clothes.


Apocalypse Later, Surf Now